You should know that in Steam there are various ways of To play online with your friends. Then you should see the Steam Remote Play Together feature, which allows users of this platform to play online. Now, before you begin to know this, Remote Play Together has some peculiarities that you should know. So in this article we will explain how to play with your friends online and on Steam.
What are local multiplayer games?
Before going into all the details of Remote Play Together, we must address the basics. In advance, we tell you that local multiplayer games are not the same as LAN (Local Area Network) games.
When talking about LAN, it refers to playing using multiple copies through multiple machines connected by a local area network. Local multiplayer mode only requires a single machine, with a single copy of a game. Local multiplayer games often also use multiple controls to play together in the main game.
To sum up, local multiplayer games refer to so-called sofa games. This term comes from playing together with your friends inside your own home and more than anything on the sofa in your living room.
For example, a group of four people playing in a domestic console with different controls. This counts as a local multiplayer game. Similarly, a group of people on several computers that play together through a local network does not count as such.
What is Steam Remote Play Together?
The Steam Remote Play Together platform feature allows you to play local multiplayer games online. You will still have a host device and a copy of a game, but you won't have to be in the same room as the other players.
If you have ever had problems for you and your friends to play together, this function can help you. Only the host of the game will have to buy and install the game before inviting others to play. In this sense, your game nights become faster instantly, all by eliminating the preliminary work of all other players.
Your friends connected to Steam now have the option of joining online for local multiplayer games. As well as, shared or divided screen and games in local cooperative mode. Four players; or more in optimal configurations, they can join your game instantly. Once they have joined, they have the option of using their own controls or sharing the keyboard and mouse.
Some precautions about privacy
First, for anyone with privacy issues. Only users who joined will be able to see the game screen. Similarly, you don't have to worry about anyone accessing your desktop and other windows on Steam.
The host can also decide how much access he wants to allow. If it happened to you, you're not sure of something. We can tell you that there is the option to disable compatibility with mouse, keyboard or control.
So, if you play on different devices or consoles, the function is compatible with PC, macOS and Linux crossplay. The Remote Play Together function seeks to make group games as flexible as possible. At the same time it protects the host from any invasive act or that is a potential vulnerability.
Steps to upgrade your Steam to beta mode
Once you have Steam open, you should go to: Steam, then to Settings. Then to Account, then to Beta Participation and finally to Change. Once in "Beta Participation – Steam menu", you must choose the option "Steam Beta Update" in the drop-down menu. Now, you can select «Accept» to close the window.
After this, you will see an alert that tells you that Steam must be restarted for the change to take effect. Then, you must download a small update. After downloading, your Steam client will restart as a new beta client.
We explain how to use the Remote Play Together function
If you have done the above, then you can try Remote Play Together by following these simple steps:
First, start a Steam game from the list of compatible titles.
Once you're in the game, press SHIFT + TAB to display Steam Overlay.
When Steam Overlay is visible, type the name of the friend you want to play with. Then, click on the arrow next to its name.
Now select: «Remote Play Together».
At this point, you may receive some error. And you may need to install additional drivers for it to work. All you have to do is follow the instructions on the Steam screen so you can do it.
Make sure your friend has accepted your invitation. Thus, you will receive a warning on the screen once your friend has accepted.
Similarly, you have to repeat the process to invite the remaining friends. If you are going to invite more.
Once all players have joined, press SHIFT + TAB to view the Remote Play settings. You can enable or disable the shared input of the control, mouse and keyboard here. Also, you can adjust the volume of the player or the players who joined.
Now they just have to play together.
Since Remote Play Together is in beta, you may experience some connection problems. You will also experience latency depending on the internet connection of the host.
The developers will work to improve network stability and hardware support on different devices. If you have a problem with the chat, consider searching the Steam Chat app for mobile devices.
Some games to try with Steam Remote Play Together
As if that were not enough, Steam offers more than 4,000 compatible titles to experience from the start. Among them, a few popular titles stand out as games that you should try to play with your friends.
1.- Left 4 Dead 2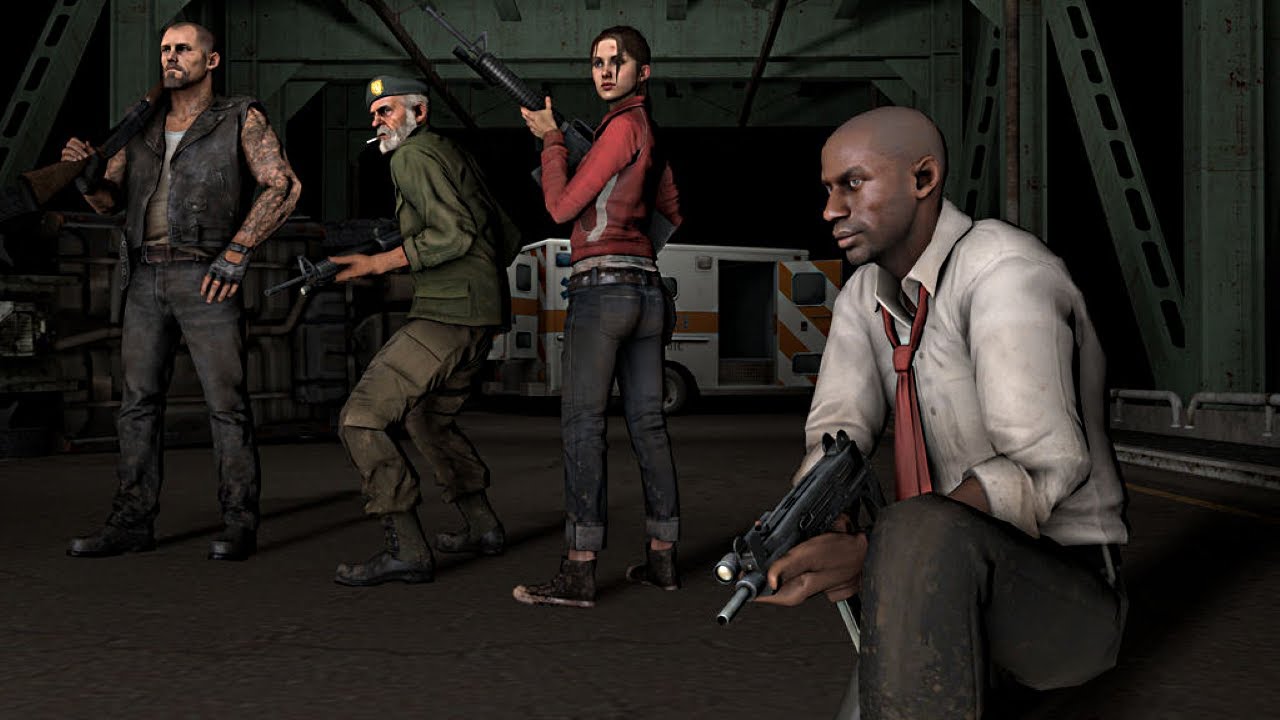 When suggesting a title for Remote Play Together, one of the classic titles of cooperative campaigns comes easily to mind. If you have some friends who have not yet tried this iconic title. You should consider introducing them.
2 .- Risk of Rain
The Risk of Rain title offers another solid entry that can support you and three other friends, more or less. As an easier graphical entry point, the title can also remove some of the burden of the host's internet connection.
3 .- Cuphead
While it is known as hard to pass, the local cooperative game Cuphead can make the game's difficulty more manageable. If you need help or just want to bring a friend to play, consider giving this video game a chance.
4 .- Enter the Gungeon
If you are looking for another dungeon crawler game to share a screen, look no further titles. You must enter the local cooperative experience of Gungeon, which works incredibly smoothly.
5.- Blazing Chrome
Blazing Chrome tribute to Contra de Konami. Its two-player co-op mode was exclusively local, hence it is a very juicy option knowing that you will soon be able to play online thanks to this tool.
6.- Spelunky
Spelunky will be able to enjoy online, both in co-op and competitively with three other people.
7.- Crawl
Crawl Powerhoof created an action-RPG in which four people compete within randomly generated dungeons where there can only be one survivor. After a start with the four protagonists in their human form, the three who have died move on to control the game's monsters and traps, making it a constant take and daca for killing the only living being and taking their place.
8.- Jamestown
there's only the standard version of Jamestown, now you can play it online, a feature that's a feature that's a feature of 2015 PS4 conversion.
9.- Nuclear Throne
Nuclear Throne is the best work of the Vambleer studio and a reference in its genre. If you're into shooting with multiple variants to consider and where no two games are the same, you don't need to look any further. And if you prefer to play in the company of someone else, now you will have it online.
10.- Enter the Gungeon
Enter the Gungeon thanks to various updates has new improvements. His main weapon? Literally, the bulging number of weapons that we can unlock, each with unique features. And very soon, with "online mode" for two people.
11.- Lovers in a Dangerous Spacetime
Lovers in a Dangerous Spacetime their particular co-op mode for two people controlling the different parts of a ship. The following year it expanded its multiplayer to four people, but without the possibility to do it online. That's why few better options are found for every fan of shoot 'em up looking for something refreshing in the genre.
12.- Unruly Heroes
Unruly Heroes, a friendly platform that did enjoy it in an online way in its release, but under a mechanic more typical of Smash Bros. on duty. If we want to play history in the company of three other colleagues, until now we could only do it locally online.
13.- DariusBurst: Chronicle Saviours
It's a shmup with content that overwhelms thanks to the hundreds of levels for its story mode and everything you can unlock, even in ships. Add to this a four-player mode that you can now enjoy online through the aforementioned Remote Play Together.
14.-Sky Force Anniversary + Reloaded
Both Sky Force Anniversary and Sky Force Reloaded are two shoot 'em up that deceive a lot in the first few bars of the game, because they are much deeper than what the first few hours of departure reveal. And, above all, they become much more difficult as we delve into their story and unlock, to the greater estres, other more advanced modes. Be very careful, because they are addictive to sick levels. But both had an important catch: their two-person co-op mode was exclusive local and online leaderboards. Now the first thing will be online.
15.- TowerFall Ascension
the game with one of the best local multiplayers in history, by far. That TowerFall Ascension is a bottomless pit in any meeting between four colleagues within the same room. It doesn't matter how much the others have, that almost all games are usually very leveled thanks to the various random factors that need to be taken into account in each map. Its Dark World expansion extended the co-op figure of its story to four people, by the way. Another good option if we want to disconnect from the competitive for a while.
The main attraction of Steam Remote Play Together
Regardless of the title you choose, Remote Play Together offers many other new opportunities. With the ability to allow online multiplayer mode for games that never had before. The Steam platform is giving a massive update to past and present titles.
In this way you can enjoy with your friends your favorite games to spend in cooperative mode. Or to face in many other games. This platform offers you many possibilities for a good enjoyment with your friends. Thanks to their excellent titles.